SAAM Aims to Create Safer College Campuses
March 30, 2015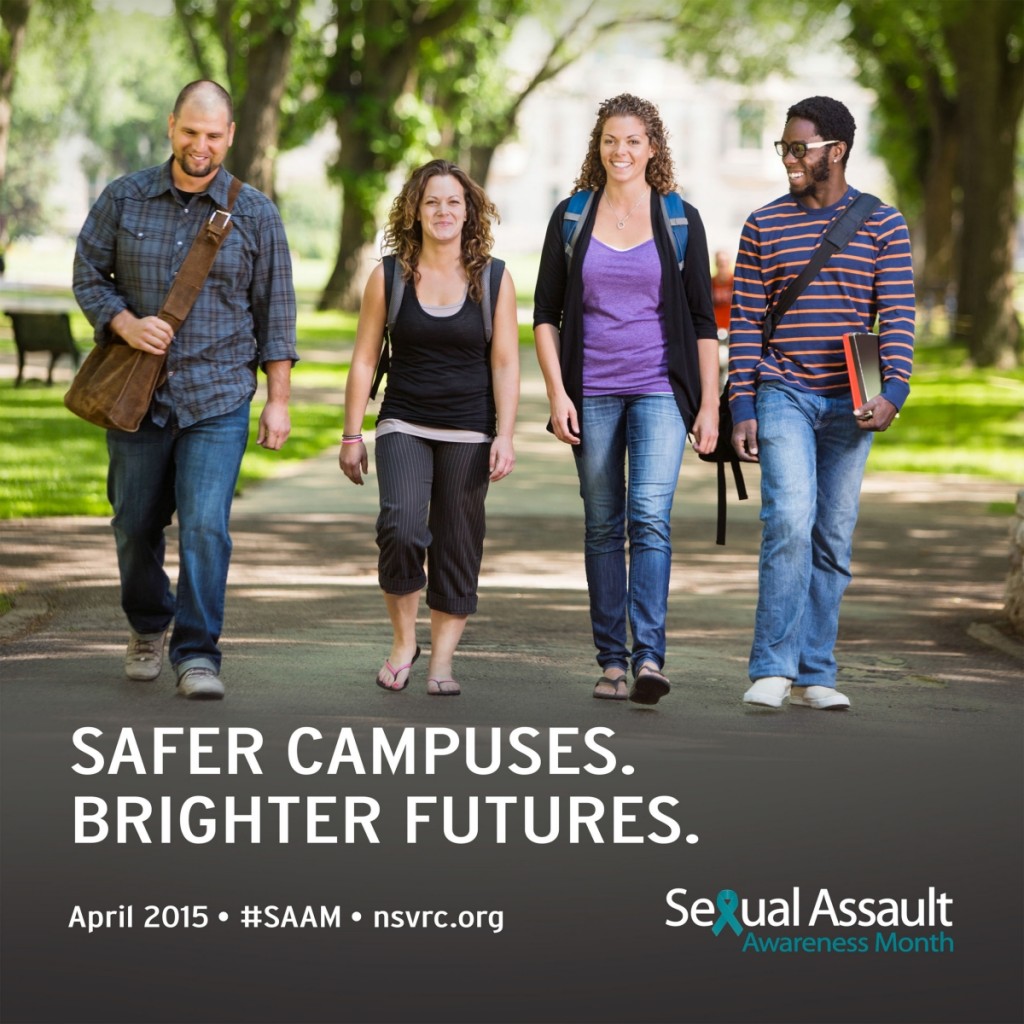 Laura Palumbo, Prevention Campaign Specialist
National Sexual Violence Resource Center (NSVRC)
877-739-3895, ext. 128; email
PRESS RELEASE: FOR IMMEDIATE RELEASE
Sexual Assault Awareness Month aims to create safer college campuses
ENOLA, PA — April is Sexual Assault Awareness Month, a national campaign facilitated annually by the National Sexual Violence Resource Center (NSVRC) and observed nationwide.
This year's campaign, which focuses on the prevention of sexual violence on college campuses, is expected to be the most far-reaching since Sexual Assault Awareness Month was officially first observed in April 2001.
"There is a national spotlight on the topic of campus sexual violence, and people are eager to learn more about what they can do to prevent it," NSVRC Director Karen Baker said. "This campaign aims to engage everyone on campus — from administrators and professors to parents and students — to help them see the roles they can play in ending sexual assault."
Notable partners include The White House's "It's On Us" campaign, which was launched by President Barack Obama in September as an effort to engage all people in ending campus sexual assault, and "The Hunting Ground," a documentary film about sexual violence on college campuses. To further elevate awareness,Niagara
Falls will light up teal on April 2.
"We are thankful to 'It's On Us,' 'The Hunting Ground,' the Niagara Falls Illumination Board and our state and local partners nationwide," Baker said. "With their help, our hope is that education efforts will reach far beyond April and fuel many conversations about the need to change attitudes, behaviors and norms to prevent sexual violence everywhere, not only on college campuses."
ABOUT THE CAMPAIGN
Sexual Assault Awareness Month is an awareness and prevention campaign observed every April. This year's theme is "It's Time to Act. Safer Campuses. Brighter Futures. Prevent Sexual Violence." Join the campaign by accessing free resources and a list of local and national events at nsvrc.org/saam. Resources are available in
Spanish at nsvrc.org/es/saam.
ABOUT NSVRC
The National Sexual Violence Resource Center (NSVRC) leads the U.S. in providing professional support to local and state anti-sexual violence organizations. The NSVRC collaborates with partners nationwide to create researchbased resources that focus on how to prevent and respond to sexual violence. The organization has the nation's largest library of resources on sexual violence and prevention. To learn more, go to nsvrc.org.
For more detail CLICK HERE!