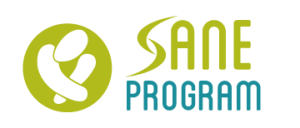 A S.A.N.E. is a registered nurse with at least forty hours of specialized training. The training enables the RN to:
Provide comprehensive care to sexual assault victims
Conduct a forensic exam
Testify effectively in court
The Sane program benefits a sexual assault victim by streamlining the process of providing comprehensive medical treatment while facilitating the collection of evidence.

The SANE Course is a forty hour course that includes classroom lecture, group projects, live models, a skills lab and a mock trial.
This course fulfills the guidelines set forth by the International Association of Forensic Nurses, and meets the educational requirement for nurses applying to sit for the national certification exam.
The University of MS School of Nursing provides academic oversight for the course and awards nursing CEUs. After taking the course, the nurse completes a clinical practicum at his/her practice sites.
The course is no cost and is held 3 times a year in each region of the state: northern (fall), central (winter); and southern (summer). A four hour amended course is also available with hands-on examples of evidence collection.
To inquire about trainings or more information, contact Shalotta Sharp, Special Projects Coordinator at shalottasharp@aol.com

Click here to view a brochure on our SANE program.
Click to view Sexual Assault Kit Instructions.