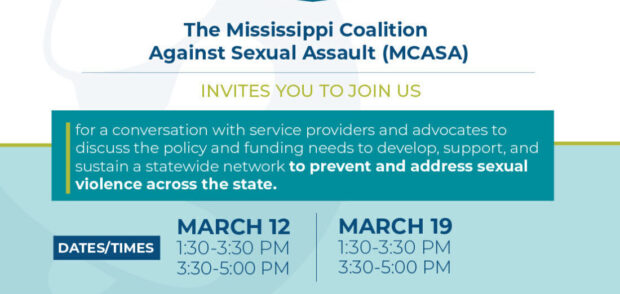 The Mississippi Coalition Against Sexual Assault (MSCASA) invites you to join us for a conversation with service providers and advocates to discuss the policy and funding needs to develop, support, and sustain a statewide network to prevent and address sexual violence across the state.
We are currently working to develop model language for a bill that will be presented to lawmakers ahead of the 2022 session, and these conversations are the first step in identifying the specific policies that are needed to support and advance your work.
There will be a total of four conversations, and we will limit attendance in each conversation to no more than ten people. Our partners at The Lighthouse | Black Girl Projects and Fahrenheit Creative Group will facilitate the conversations, which will help inform model policy language that you will have the opportunity to review in April.
Please use the link below to sign up for one of the four sessions, which will be held on March 12 and March 19 from 1:30 pm – 3:00 pm and from 3:30 pm – 5:00 pm.